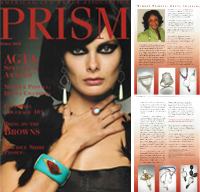 Donna Chambers, fine jewelry goldsmith and designer, has achieved an enviable level of success that began with a gifted past and ambitious goals. Born and raised in Ossining, New York, Donna was recognized at an early age by Vera Linens for her talents in artistic design. Vera hired Donna as a teenager to create textile designs for her multi-million dollar operation that was located in Donna's hometown. Linens established a fund and scholarship in honor of her late husband, and Donna became the first recipient of the scholarship.

In 1968 Donna went to Pratt Institute from which she graduated Cum Laude with a Bachelors Degree in Fine Arts. In 1976, Donna became part owner of a jewelry repair shop that serviced fifteen neighborhood jewelry concerns in the downtown Brooklyn area, as well as A & S Department Store. Three years later, after having refined her skills, Donna expanded and created the Donna Chambers Collection.

"I'm inspired by GemFair Tuscon. The whole town is buzzing with a massive source of creativity," stated Chambers. In fact it was in Tuscon, that she came across a table displaying 18th-century Chinese gambling chips made of mother of pearl. The dish of beautifully carved pieces inspired Donna. "I picked up a few and made two or three pins with them," says Chambers. The reaction to these unique pieces was so strong that Chambers spun her discovery into her signature jewelry line.