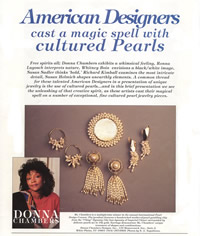 Free spirits all; Donna Chambers exhibits a whimsical feeling, Ronna Lugosch interprets nature, Whitney Boin envisions a black/white image, Susan Sadler thinks 'bold,' Richard Kimball examines the most intricate detail, Susan Helmich shapes unearthly elements. A common thread for these talented American Designers in a presentation of unique jewelry is the use of cultured pearls…and in this brief presentation we see the unleashing of that creative spirit, as these artists cast their magical spell on a number of exceptional, fine cultured pearl jewelry pieces.

Ms. Chambers is a multiple-time winner in the annual International Pearl Design Contest, Pin/pendant features a hand-etched mother-of-pearl gambling chip from the "Ching" Dynasty (the last dynasty of Imperial China) surrounded by delicate pearls set in 14k gold. Earrings demonstrate Ms. Chambers' unique treatment of shapes and combinations.

Donna Chambers Designs, Inc.,
110 Mamaroneck Ave. Suite 2,
White Plains, NY 10607
(914) 287-0303.
JQ, September/October 1991

« back to In the Press